A cybersecurity vulnerability with third-party software provider, MOVEit, has impacted thousands of companies, including First National 1870.
<<Learn More>>
This is More Than Just Another Place to Work
Our mission, "Bringing out the best in the lives we touch … Creating Possibility," applies to more than just our customers, it permeates through everything we do. When you come work at First National 1870, Sunflower Bank and Guardian Mortgage you're introduced to a culture of support and caring that drives both internal actions as well as activities in the communities we serve. Our employees aren't just bankers, managers, salespeople, or executives, they're also decorated professionals, leading industry voices, community leaders, and much more.
Our Culture Is Reinforced by Our Actions.
First National is proud of the culture we have built and even more proud of the activities we engage in to ensure our culture only continues to improve.
Saluting Employees: We Support Our Employees with Recognition
Domingo Ortiz
We are proud to announce that our outstanding Retail Regional Manager for Northern New Mexico, Domingo Ortiz, has been selected as a Top 40 Under Forty Business Leader by the Santa Fe Hispanic Chamber of Commerce! Congratulations, Domingo, and thank you for all your work Creating Possibility in your community!
Jen Guidry
We are proud to announce that Jen Guidry, our outstanding Area Manager from San Antonio, TX, has been selected as one of the Top 10 Most Empowering Women in the Mortgage Industry by The Chief Navigators magazine! Congratulations Jen, and thank you for always Creating Possibility in your community!
Read the Full Article
Ryan Parker
We're pleased to share that Invest San Antonio 2023's Banking & Finance Q&A included Ryan Parker, Regional Market President for South Texas. Ryan's responses were featured along with those of other community banking leaders discussing strategies around growing their institutions as well as their visions for the future.
Read the Full Article
Brian Mulcahey
Sunflower Bank and Brian Mulcahey, our Chief Information Officer, were recently profiled as a Customer Case Study by our IT partner, Info-Tech Research Group. The article details the enterprise-wide approach to strategy that Brian has employed since joining Sunflower Bank in 2017. As technology became integral to the success of our organization, Brian has worked to align IT to support Sunflower Bank's overall strategic goals.
Read the Full Article
Commercial Banking Team Lead Says:
Solid leadership combined with an entrepreneurial spirit are what I love about the bank.
Mortgage Loan Originator Says:
I love how this company takes care of each other.
I know I can count on the people I work with. In times of struggle, help and support is never in short supply. We also celebrate big wins together. It's that personal touch, within the company, and when serving customers that sets us apart.
Senior Branch Manager Says:
I love being a part of a successful culture and the camaraderie that comes with it.
Mortgage Regional Sales Manager Says:
Sunflower Bank provides the perfect platform for originators to be as successful as they desire.
I am fortunate to work for a company that focuses on providing the sales tools necessary to achieve our goals.
Commercial Banking Team Lead Says:
I love that Sunflower Bank is an organization that has a clear focus on what we are trying to accomplish.
This company is comprised of so many good, smart and talented individuals.
Retail Regional Manager Says:
Seeing the growth of the company over the past six years and being a part of the retail changes along the way are a few things I love about Sunflower Bank.
SBA Business Development Officer Says:
The best thing about Sunflower Bank is the people.
All banks have similar pros and cons, but Sunflower's people are the reason I enjoy working here.
Treasury Management Officer Says:
I love the culture and people I work with at Sunflower Bank.
I also love being heard as an employee, being able to make a difference at the Bank, and being able to get things done for our clients.
Wealth Management Advisor Says:
There are a lot of hard working and successful individuals here at Sunflower Bank.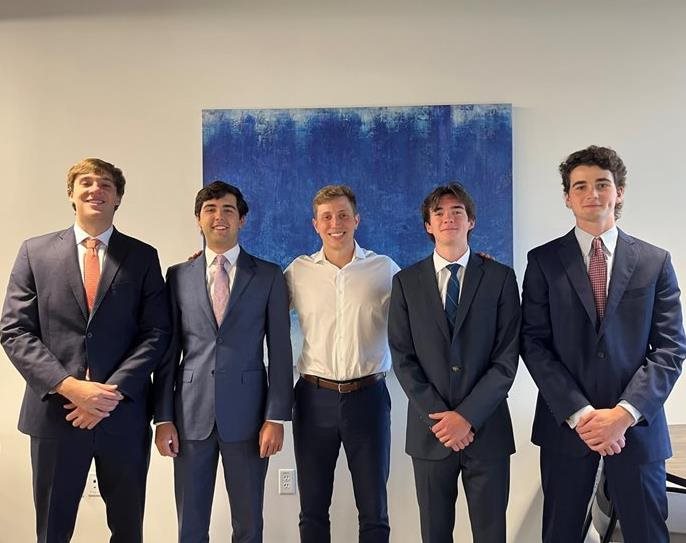 Employee Spotlight
Commercial Banking Summer Interns - Dallas, TX
We proudly celebrate the conclusion of a remarkable ten-week internship with our Credit Administrative team in Dallas, Texas. Four exceptional young professionals embarked on a transformative journey. They received intensive OMEGA training in financial analysis and completed unique two-week rotations through diverse bank departments, including commercial lending, syndications, Asset Based Lending, technology/media/telecom, and Portfolio Management. Each intern had two mentors and networked with ten Sunflower Bank employees. Weekly case studies on credit structure enriched their knowledge. This internship showcased the dedication, passion, and potential of our future finance leaders, filling us with immense pride. The future is undeniably bright.