A cybersecurity vulnerability with third-party software provider, MOVEit, has impacted thousands of companies, including First National 1870.
<<Learn More>>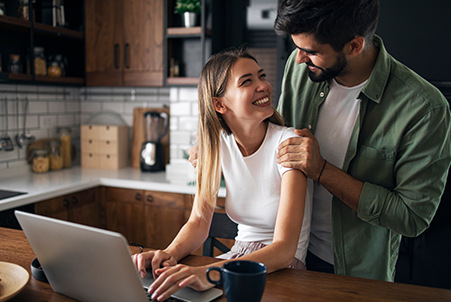 5 Financial Mistakes Newlyweds Make
02/03/21
Getting married can be one of the most exciting and happy experiences in a person's life. And although the wedding ceremony itself is typically full of joyful moments, many couples often find themselves experiencing significant levels of stress after the ceremony is over and "real life" begins. It can be a challenge to adapt to new arrangements, and therefore easy to put off important things, like conversations about finances. Talking about money isn't always easy, but it's an important step in starting a life together. Here are some common money mistakes newlyweds should avoid …
Not setting a budget
Establishing an agreed-upon budget is a fundamental need for the financial (and emotional) well-being of any home. So take the time to plan and map out important money goals for each year. After reviewing your finances as a pair, determine how you'll spend your money each month. Your combined budget will reveal certain areas where you can cut back on expenses and others you should be saving up for, based on your financial goals. When it comes to setting a budget, the sooner the better. This will benefit your bank accounts as well as your relationship.
Not starting an emergency fund
When budgeting and saving as a couple, including an emergency fund as part of your plan should be a top priority. Life is full of surprises, and unfortunately some of these surprises can easily drain your accounts. An emergency fund will help you avoid unfortunate financial situations that can occur when you find yourself with unexpected large expenses.
Not updating beneficiaries
Once you've officially tied the knot, you should make sure that documentation is in place to identify your spouse as the person who will receive the benefits of your will, insurance policies and financial accounts such as your 401(k), checking and savings accounts. It's a simpler process than you might think, and one that you really should take care of as quickly as possible after marrying. You do not want to wait until an emergency occurs to complete this task.
Not having a specific plan for managing accounts
We understand that there is no "one-size-fits-all" way to manage your accounts as a couple. Every family has individual needs based on their goals, values and circumstances. That being said, couples can choose to have only joint accounts, to have separate accounts for savings or personal spending, or to keep things entirely divided altogether. Take the time to discuss your preferences with each other, and then decide what makes you both comfortable and secure. We have a variety of accounts(Opens in a new window) to choose from. If you need assistance, contact(Opens in a new window) one of our team members – we will be happy to help go over your options.
Not working as a team
Ideally, marriage is teamwork, and this applies to your finances as well. Avoid hiding spending from your partner, or not working toward your shared financial goals. While you each will take on different roles and duties in your relationship, you both should be meeting regularly to review your budget and discuss overall spending. At the end of the day, there should be no surprises between you regarding what is going on financially.
Everyone makes mistakes at times, but educating yourself on good financial practices for newlyweds can save your money (and your marriage) a lot of trouble in the long run. At Sunflower Bank and First National 1870, our banking professionals are ready and equipped to help you make the right steps towards your financial goals. Contact our team today to see how we can help you make smart money choices, together.
Banking Education