A cybersecurity vulnerability with third-party software provider, MOVEit, has impacted thousands of companies, including First National 1870.
<<Learn More>>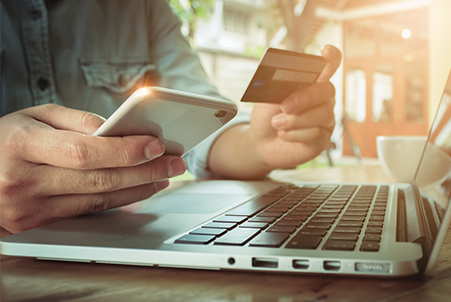 Keep Your Money Safe with CardControl
11/18/20
As the number of people choosing to conduct personal financial transactions online continues to rise, so does the need for enhanced cybersecurity. So for everyone gearing up to do the bulk of their holiday shopping online this year, and for those of you who have made the leap in conducting everyday purchases such as ordering groceries online, Sunflower Bank, N.A. has added a security feature to their mobile banking app with you in mind: CardControl. Shopping online puts anyone with a debit or credit card at risk for fraud and theft, and with security tools such as CardControl, you have the ability to catch fraudulent activity before things get out of hand.
Although nothing is 100% guaranteed fraud-proof, keep reading for helpful tips on how to protect yourself by utilizing tools such as CardControl …
Sign up for mobile banking
In this digital era, most banks have online banking platforms for both mobile and desktop use. These platforms allow you the convenience to view your activity and manage your accounts wherever you go. Logging into online banking every day allows you to spot potentially fraudulent transactions virtually as soon as they occur and thus minimize the damage, versus waiting for a monthly statement to generate and possibly discovering fraudulent activity with your account when far more damage has been done.
Many mobile banking applications also have tools, such as CardControl, within the app that help track, receive alerts of, and freeze transactions, all from one location. This can be especially helpful during the holiday season, when many people make online purchases from a variety of different sites and applications. (As an important side note: Remember to make sure you use strong passwords for your accounts, and that your phone requires a passcode or biometric method – face recognition or fingerprint – to unlock it.)
Track and freeze your cards
CardControl, part of Sunflower Bank's and First National 1870's mobile banking platforms, is an intelligent way to help you stay alerted of transactions, and manage how your cards can be used. It's a robust online tool, with an array of features that can help keep your money safe and keep you from having to close your accounts if suspected fraud occurs…
Toggle Debit Card "On" and "Off": If you lose track of your card, you have the option to turn it off or "freeze" it until it is found. Once you find your card, simply turn it back on.
Real-Time Alerts: Mobile alerts notify you as soon as each transaction is completed. If any transactions happen without your authorization, you will know sooner than waiting for your next statement.
Location Settings: Limit spending capabilities only to the locations you are in, or to which you are traveling. You can even limit transactions to be possible only when your mobile device is in the same location as your debit card.
Merchant Types: Select specific types of stores or places of business where your cards will allow transactions. For example, you can give your child access to a card programmed only for use at gas stations – disabling use at restaurants, etc. while the card is in their possession.
Transaction Types: Limit your card to permit only in-store, eCommerce, mail/phone order, or ATM transactions.
Spending Limits: Put daily transaction limits on your card.
If you suspect fraud or theft on your account, report the activity to your bank right away. Even though there are many tools for fighting fraud, being aware of your online spending practices, and working with a local bank you can trust, are two of the best ways to prevent it. Sunflower Bank wants to help you protect your finances, manage your accounts, and help put your mind at ease this holiday season, and all year long. If you are interested in learning more about CardControl, or would like more information about our Personal Online Banking platform, please reach out to our banking professionals at 888-827-5564 or click here(Opens in a new window) for more information.
Banking Education