A cybersecurity vulnerability with third-party software provider, MOVEit, has impacted thousands of companies, including First National 1870.
<<Learn More>>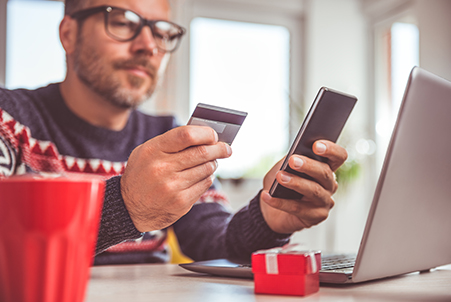 Leveraging Your Credit for the Holidays
11/22/21
How to Leverage Your Credit Wisely for Holiday Gifting
The holidays are a time filled with family and friends, joy and cheer. But they can also be financially stressful. Between multiple get-togethers, activities out with friends and holiday gift gifting, it may feel like the demands on your wallet never end.

It can be hard to balance increased spending on gifts when your paychecks are the same as they've been all year. You may even be tempted to increase the number of items purchased on your credit card. Using your credit cards can be an attractive option for holiday spending if you use them wisely.

Make your credit work for you this holiday season. Keep your spending in check and decrease your holiday stress with the following five tips from Sunflower Bank and First National 1870.

5 Tips To Use Credit Cards Wisely for Holiday Gifting
Take advantage of earned rewards points/dollars. The top credit cards available offer you a variety of rewards for purchases made on your credit card. While some cards offer cash back, other cards including the Sunflower Bank personal Visa® card offer you the opportunity to redeem points for a variety of goods. Take advantage of these rewards points to get gifts for family and friends at no additional cost to you. From electronics to recreational items to home goods, you can get all types of products using your Sunflower Bank and First National 1870 Visa rewards.

You can also look at your cards to see if they offer travel rewards that might be helpful to you this holiday season. If you plan to go out of town for the holidays, rewards on hotels or flights can come in handy. Also, look to see if your credit card has preferred stores or types of purchases (e.g., gas or groceries). You may get higher rewards when you shop at specific retailers, which may drive your decisions on where to buy holiday gifts.

Check your credit before you begin spending. Being in tune with your credit card and your credit score is always a good idea, but it specifically can alert you to any fraud around the holidays. Before you start your holiday shopping, check your credit card to verify your credit limit, and then review your transaction history often to ensure you are not a victim of credit fraud. You can also check your credit score and credit report for free using Credit Sense, a program provided to Sunflower Bank customers through personal online and mobile banking.

Stay engaged with your credit and be mindful of your spending. It's easy to put purchases on your credit card. Don't fall victim to your own oversights. Stay on top of your spending:

Track how much of your credit limit has been used.

Pay off your credit cards as you go. Do this whenever possible. It will help you keep track of your spending, while also lowering the potential for forgetting to pay your bills.

Don't spend more than you would spend in cash or on a debit card.

Beware of point-of-sale credit card offers. Some retailers may ask if you'd like to open a credit card as part of their rewards program. Be wary of this overture. While it may be tempting to get a discount on your immediate purchase, do you really want to open up a whole new line of credit, which may affect your credit score, for a one-time money-off offer? If you're still interested in opening a retailer rewards credit card, consider whether you are shopping at a store you frequent often, or if this is a one-off store purchase for a particular gift. That can help you decide if opening a store credit card will provide additional benefits beyond your initial discount.

Weigh the pros and cons of extended warranty coverage before adding that cost to your credit card purchase. When budgeting for gifts, warranties are often overlooked, but frequently offered at the check-out counter. It may be good to look into extended warranty coverage or purchase protection on some items. It's great to know that you're covered if anything happens to an important gift you've bought for someone. Just be sure to weigh the security of being covered against the price of that coverage to ensure it's right for you.

You can manage gift-giving this holiday season well, within your budget, as long as you stay mindful of the varying factors at play. Use these tips from Sunflower Bank and First National 1870 to stay on top of your credit card purchases. If you have any questions about credit card options and benefits, contact your Sunflower Bank or First National 1870 banking professional. We're here to help.
Banking Education