A cybersecurity vulnerability with third-party software provider, MOVEit, has impacted thousands of companies, including First National 1870.
<<Learn More>>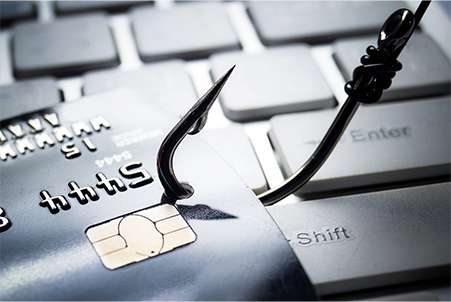 What Is Phishing? How To Avoid Bank Scams and Protect Your Personal Information
10/07/21
These days, the most effective way to steal isn't in person – it's online. Phishing scams are fraudulent attempts (usually through email) to steal sensitive information, get money, or convince the user to download something that may contain malware. One of the most common scams is posing as a bank.

Sunflower Bank wants to help you keep your financial data and your funds safe. If you suspect you have been the victim of a phishing scam, call us immediately at 888.827.5564 or contact your local branch.

October is National Cybersecurity Awareness Month. So to help you prevent becoming a victim of a scam, read the following to learn about how scams work, and what to watch for.
How Phishing Works
Phishing scams are based on deception. The phisher often poses as an important entity – such as a bank or government office – to convince you to share personal information that should remain secure, such as your:

Account PIN
Security question answers
Personal information such as your Social Security number, birthday, or address

With this information, the phisher hopes to gain access to your account or commit identity theft, making it possible to engage in criminal activities in your name.

Clearly, you don't want any of these to happen to you; and learning how crafty a phisher can be is an important part of protecting yourself.

First, remember that the phisher is counting on you to believe that the email is from someone you can trust, such as a business you have an account with. They often use a company's logo and what looks like a company email address when they contact you.

It's very easy to be fooled by this, so it's important to remember that a business you have an account with, like Sunflower Bank or a utility provider, will NEVER contact you asking for your personal information or account details.
How To Detect a Phishing Scam
To catch you with your guard down more easily, phishing scams often rely on a sense of urgency. They typically use scare tactics designed to get you to panic and react to a situation immediately without giving much thought to whether the message is legitimate.

You might get an email, text or call with alarming "news" that:
Your account has an unknown sign-in or suspicious activity.
Your money has been compromised.
Your account has been deactivated or closed.
You need to confirm personal information.

Other tactics(Opens in a new window) might include:
Attaching a fake invoice to an email
Asking you to make a payment via a specific link, or immediately on the call
Claiming you're eligible for a government refund

Email messages that are actually phishing scams often come with telltale signs you can use to detect them. For example:
Poor grammar or spelling
Generic greetings like "Dear Sir," "Dear Customer," or even just "Hi"
Fake URLs that have been shortened or masked to look like they are from the company you trust

Remember not to click on any link in an email that seems suspicious. Determining whether a link could be a scam is easier than you might think – simply hover over the link with your mouse without clicking. If you see a long, complicated URL that doesn't match the web address of the company it's claiming to be from, it's probably a phishing scheme. Note that emails and texts you view on your mobile device don't offer this method of checking a link before you click – making it even more important for you to exercise caution on these devices.
What To Do if You Receive a Phishing Scam Message
No matter how a phisher is attempting to contact you, the best thing to do is stop communication immediately. If you are called, hang up. If you get an email or text, delete the message.

However, before you delete the message, you can help fight phishing and protect others by reporting it to the Federal Trade Commission(Opens in a new window):
If you receive a phishing email, forward it to the Anti-Phishing Working Group at

[email protected]

.
If you receive a phishing text message, forward it to SPAM (7726).
If you're concerned about your account, the next step is to contact the company the phisher pretended to be. Visit their website directly by typing it in yourself (not by clicking any links in a message), and get their published phone number or other contact method you feel comfortable with. The representative will be able to tell you if the call, text or email was legitimate, and check if there are any real issues with your account.
If you're concerned there is an issue with your Sunflower Bank account or you feel suspicious about any message or call you've received, we want to put your mind at ease. Call the number on your bank card, and we will help you determine if there is truly a problem with your account, and share any next steps you need to take.
Stop A Phishing Scheme in Its Tracks
Unfortunately, the number of phishing scams of all types continues to grow each year, and they only seem to get more sophisticated and cleverly-masked. You can protect yourself by being aware of the tactics scammers use, and pausing to consider the legitimacy of any message or call you receive before you engage. It can be a difficult and complex process to combat identity theft once you've fallen victim, so be proactive in safeguarding your information.

For more information on avoiding a bank scam, visit banksneveraskthat.com(Opens in a new window) or follow Sunflower Bank on social media for more tips on avoiding phishing attempts throughout the month of October.
Banking Education